THE BOY IS FINALLY HOME!
Friday 17th February 2023
Drake, Music Zone, Music Festival Experience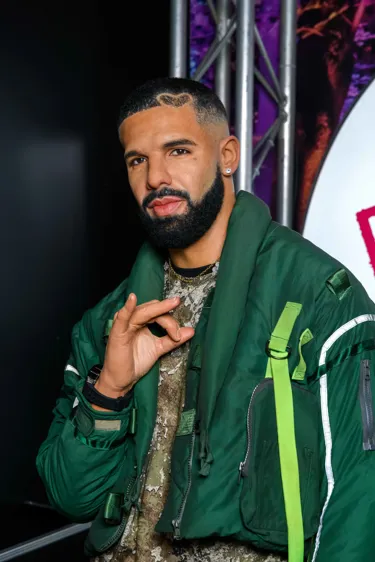 Madame Tussauds London has today put the longstanding rumours to bed and confirmed that global hip-hop sensation, rapper and 2023 BRIT Award nominee, Drake, has taken up permanent residency in the UK capital in the form of the famous Baker Street attraction's latest figure unveil.
The Certified Lover Boy, who isn't shy when it comes to declaring his love for London, is reported to have recently bought a £9.15m mansion in Hackney and is regularly seen at some of the capital's hotspots, including restaurant, Sexy Fish, where late last year he was spotted celebrating his 36th birthday.
Showing that the love is mutual, Madame Tussauds London is paying homage to the multi-award- winning Grammy star by immortalising him in its Impossible Festival music zone where his likeness will be added to an already epic line-up of musical icons, both past and present, including Stormzy, Freddie Mercury and Amy Winehouse.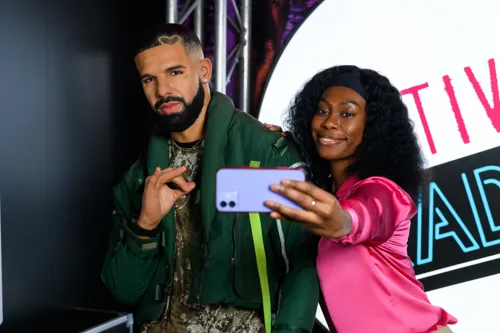 Coming to the attraction just in time for February half-term and his possible win at the BRITs this weekend, the figure has been styled on Drake's 2021 surprise Wireless Festival appearance, where the Canadian star stunned the Crystal Palace Park audience and demonstrated his love for London as well as the city's rich music culture. 
Known for his iconic number-one singles such as One Dance, God Plan's and more recently, Way 2 Sexy, the rapper who won over twenty-five Billboard Music Awards, will be wearing a camouflage t-shirt and cargo trousers, topped by a green parachute bomber jacket and white Nike Air Force 1 trainers, whilst also donning a number of replica pieces of jewellery from the likes of Cartier and Van Cleef.