SURPRISE! Fans in shock as Dua Lipa appears at Madame Tussauds London party
Saturday 16th February 2019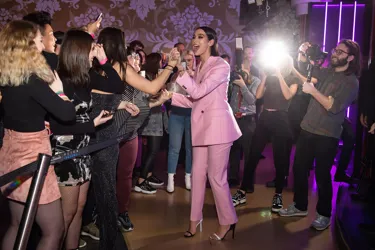 Jaws dropped at Madame Tussauds London last night as Dua Lipa thrilled super-fans with a surprise appearance to celebrate the launch of her incredible new figure and experience, the Dua Lipa Glow Room.
Excitement levels soared as the star snuck into the world-famous attraction, unbeknown to fans who had won the chance to be the first to try out the new experience.
Styled in the double Grammy winner's Glastonbury 2017 outfit – donated by the songstress herself – Dua's figure takes centre stage in the Baker Street attraction's new photographic experience, the Glow Room. Created in partnership with The Flash Pack, the design takes inspiration from Dua's iconic stage sets and encases the space in neon lights. Guests can strike a pose with the figure as a rig of 10 cameras fire sequentially to create a free 3D gif to take away and share on their own social media channels.  
Speaking at the party, Dua Lipa said: "It blows my mind! It's pretty crazy to see…it come to life. I'm hoping I can take it home with me!"
She continued: "I've been to Madame Tussauds a few times when I was younger and I took my family when they've come down from Kosovo and Holland and it's always been a really fun experience…"
Fan, Jazzy Nenham, 16, from Wimbledon said: "With the DJ's music and the neon lights I felt like I was at a concert with her. The gif looked like the one she did on the Grammy's red carpet. Her outfit was stunning."
Steve Davies, General Manager at Madame Tussauds London, said: "We had a lot of fun setting up this special moment with Dua for her fans. 2019 already looks set to be another ground-breaking year for her and it's about time we celebrated our fellow Londoner. The Dua Lipa Glow Room continues our push to create unmissable experiences for all our guests and we're sure fans will agree we've captured Dua's personality within it.'
The Dua Lipa Glow Room will be open to the public from Saturday 16th February 2019 and is set to be a highlight of the February half-term period. To book tickets head to www.madametussauds.com/london
Were you at the event? Tag us in your pictures! @Madame Tussauds