It's a superstar summer at Madame Tussauds London with the one and only Dwayne Johnson!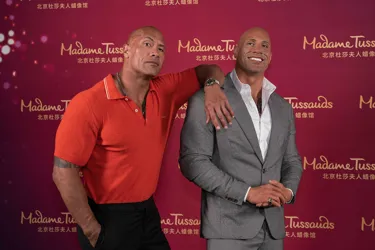 Fans of Dwayne 'The Rock' Johnson will be doing a double-take this summer, as the man of many talents makes not one but two Madame Tussauds debuts.
The superstar has been working with the world-renowned brand on two new figures.  One will take up permanent residency at Madame Tussauds London whilst the other will tour Asia, kicking off at Madame Tussauds Beijing.
The Hollywood heavyweight has been working closely with the Madame Tussauds team to perfect his new figures, right down to his million-dollar smile. Both figures stand red-carpet ready in outfits chosen by Dwayne himself: London's figure rocks the actor's 2018 Rampage London premiere look, while Beijing's touring figure is wearing his 2018 Rampage Los Angeles premiere suiting.
Dwayne Johnson said of his cross-continental debut: "A very cool honor to have multiple Dwayne Johnsons have a presence at Madame Tussauds. One sexy DJ will have residency in London, while the other sexy DJ will travel Asia and the world, starting in Beijing. So I invite you all to come hang out with me, take some fun selfies, raise a glass and toast to hard work, gratitude and the words I NEVER hear when people meet me for the first time, "I thought you'd be bigger".
Steve Davies, General Manager at Madame Tussauds London, said: "You would be hard pressed to find someone who would not jump at the chance to hang out with Dwayne Johnson. Everything about him is supersized – his workouts, his drive, his generosity, his smile. He's not just one of the biggest stars in the world right now; he's one of the most loved. I'm not embarrassed to say I have my own man crush on him."  
Dwayne Johnson's figure is available for guests to meet from tomorrow (Saturday 17th August).