Eddie Redmayne joins our glittering line-up of the famous and fabulous
Thursday 25th January 2018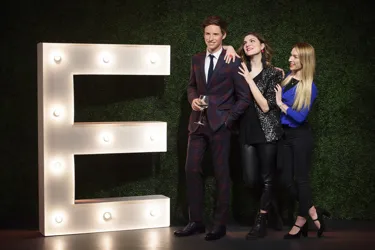 We are proud to unveil our first new wax figure of 2018, Eddie Redmayne. One of Britain's most dashing and decorated actors, Eddie's figure arrives just in time for award season and half term!
Looking red carpet ready, you will be able to meet Eddie's  likeness  from Saturday 27th January alonside a plethora of home-grown British film talent such as Benedict Cumberbatch, Tom Hiddleston and Cara Delevigne.
Eddie has been fully involved in the creation of his figure, attending a sitting with the talented Madame Tussauds' artists to take over 200 measurements, ensuring the striking likeness. The figure sports the dapper Gucci suit Eddie wore at the LA premiere of The Danish Girl – donated by the man himself – showcasing the Oscar-winner's effortless style.
Eddie Redmayne said: "It's an honour to appear alongside some of Britain's best and most iconic actors and it's been incredibly exciting to be a part of the process. The finished figure is remarkable – if I didn't know better, I'd say it was actually me."
Ticket prices start from £29. Book your tickets now.
 #RedCarpetRedy