Feminist trailblazer Emmeline Pankhurst is here
Tuesday 7th March 2023
International Women's Day, Feminism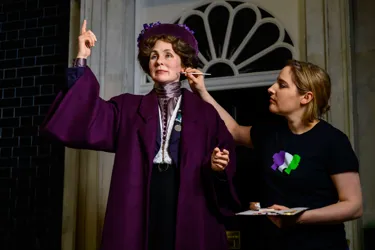 Madame Tussauds London today announced it has immortalised Suffragette and feminist trailblazer Emmeline Pankhurst, with her new figure to be unveiled in the attraction on International Women's Day. Marking 120 years since Emmeline co-founded the ground-breaking Women's Social and Political Union (WSPU), Madame Tussauds London was joined by modern-day feminist activists Florence Given, Charlie Craggs and Ben Hurst to honour Emmeline and her work.
Political activist Emmeline Pankhurst was one of the key figures and orchestrators of the Suffragette movement and was instrumental in helping women win equal voting rights to men in the United Kingdom. Bringing history back to life, the Baker Street attraction's new figure depicts the Suffragette standing on a chair, as she often did to be elevated above the crowd so they could hear her rallying speeches. Dressed in the Suffragette movement's colours of purple and white, the figure's lapel also displays Emmeline Pankhurst's hunger strike medal.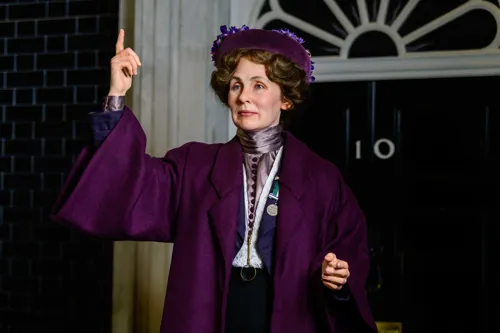 To help unveil Emmeline Pankhurst's figure, Madame Tussauds London brought together feminist activists and influencers Florence Given, Charlie Craggs and Ben Hurst to reflect on Emmeline's legacy. Ahead of International Women's Day, the trio discussed how they believe the Suffragette trailblazer's passion lives on today, the progress we have made in the last 120 years, the importance of ally ship and why activism remains important in today's society.
During their discussion, all three commented how having Emmeline Pankhurst's figure standing next to them makes the Suffragette history feel more real, with Florence Given saying: "Her legacy was so immense." Charlie Craggs asked: "Where would we be today if Emmeline Pankhurst hadn't done what she'd done?"
Sharing how she thinks people can become allies to women, Florence Given believes it is about keeping the conversation going. She said: "I know that sounds so basic and straightforward and it doesn't feel like it's going to make a massive change but it's a tiny domino effect. You can never say the same things enough times as there's someone who will be hearing it for the first time too. You don't always need a platform, sometimes your platform can be your family table and that's your soapbox."
When asked what he believes feminism will look like in 120 years, Ben Hurst said he feels "this bit of the problem should be solved because we've evolved as a species and our disagreements should be about what genre of music people like instead of who people are and our identities."
The discussion was summarised by Charlie, who said: "Emmeline Pankhurst never sorted it (gender equity) in her lifetime, and I don't think we'll see it in our lifetime, but I don't think we're doing it to see it in our lifetime. Just like Emmeline Pankhurst did it for us, we're doing it for the next generation and I think that's how we're going to win."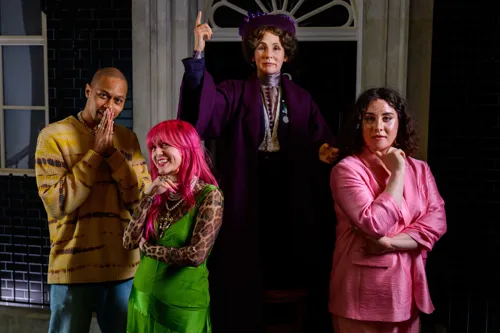 On Emmeline Pankhurst's figure launch, Tim Waters, General Manager at Madame Tussauds London, said: "Madame Tussauds London was founded more than 200 years ago by another female trailblazer, Marie Tussaud, a definition that also perfectly sums up our newest figure, Emmeline Pankhurst.
"This is the second figure that we have created of Emmeline Pankhurst after she was first immortalised in 1908 during the Suffragette movement. With her new figure, we are able to bring history back to life in a way that only Madame Tussauds London can, by giving guests the opportunity to see her in 3D, as though stood amongst the crowd at one of her famous, rousing speeches.
"We want to thank Florence, Charlie and Ben for helping us unveil Emmeline Pankhurst's new figure ahead of International Women's Day. By creating this new figure, we are remembering a revolutionary female voice of the past that helped to shape modern culture. Florence, Charlie and Ben's insightful discussions highlight the important work still to be done and how we can all play our role in this."