Introducing #TheresaClay
Wednesday 9th August 2017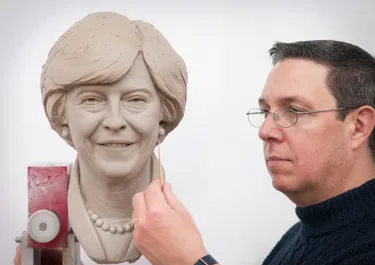 Today we announced the commission of a new wax figure of the recently appointed Prime Minister and Conservative party leader, Theresa May. Since the controversial election result, our incredible studios team have been working tirelessly to create a stunning likeness of the new PM and the figure is currently in the first stage of the creation process, where the head is moulded in clay before the wax mould is formed.
The process of creating a wax figure typically takes around three to four months, with a team of highly skilled sculptors spending approximately 170 hours moulding, before hair insertors and colourists add the crucial finishing touches before the official unveiling. The chosen outfit and shoe selection remains a tightly guarded secret, but the choice will be an exact replica of one of Theresa May's expansive and headline grabbing collection.
Edward Fuller, General Manager of Madame Tussauds London, said: "Following the recent General Election, we look forward to hearing the consensus of the Great British public as we reveal the first stages of Theresa May's wax figure in creation.
"While the Prime Minister's Brexit strategy may be unclear, we can be sure that her completed figure will bear a striking resemblance to the woman herself when it launches later this year."