Just let us Adore You! Golden Ticket winners the first to meet new Harry Styles figure
Friday 28th July 2023
Harry Styles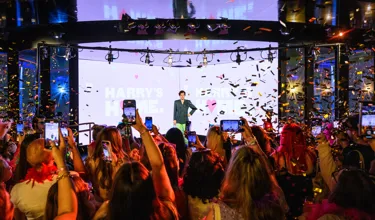 Screams of delight rang out across Madame Tussauds London last night as fifty lucky Styles superfans were the first to 'meet' our latest figure, Harry Styles.
Those in attendance at the exclusive Late Night Talking event packed into our Awards Party zone to see the British heartthrob, singer, actor and fashion icon's figure revealed in a dramatic curtain drop moment – followed by hundreds of sought after selfies. His fans echoed Harry's mother, Anne Twist who shared an image of the London based likeness on her Instagram saying 'Love This', and the recent online reaction, stating how lifelike the figure was.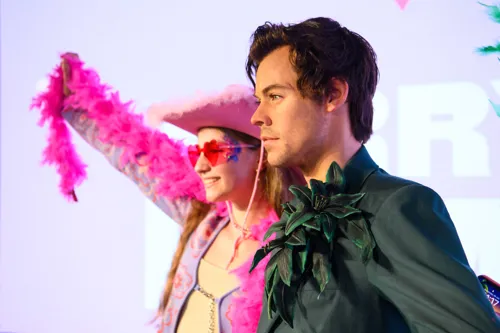 Harry Styles' stunningly lifelike new figure took our expert artists over 10 months to create and is one of seven figures now on display around the world. The striking outfit, a nod to his fashion credentials and more recent break into acting, is inspired by the iconic look worn at the My Policeman premiere in 2022. Featuring a double-breasted hunter green blazer, large flower broach, pistachio green trousers, ivory boots and the all-important bright green handbag he paired it with - the look is finished with his classic pearl necklace jewellery. 
This newest addition to Awards Party zone, will stand amongst A-list royalty including the Beckhams, Zendaya, Dwayne 'The Rock' Johnson and Leonardo DiCaprio. Harry's likeness is the second made by Madame Tussauds London. His first figure, alongside the other members of One Direction, was created after hours of sittings with the our expert sculptors in 2013.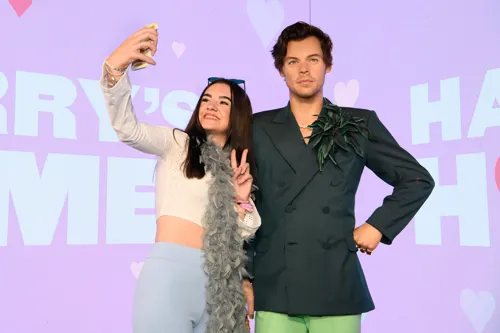 On the unveiling of Harry's new figure in front of fans Tim Waters, General Manager at Madame Tussauds London, said: "We can't believe we finally get to say Watermelon Sugar 'Hi' to our much-anticipated Harry Styles figure. It's great to have him back in his rightful home at Madame Tussauds London. He is by far our most requested figure, with thousands of fans asking us to make him over the last couple of years, and the reactions tonight showed just how loved he is by his UK Stylers. Fans worrying about where their next Harry hit is going to come from now he's wrapped up is global tour know where they can come and get their Styles sighting – and we can't wait to welcome them all.
"There is no denying that Harry is a global superstar, he's a music, fashion and movie icon winning countless awards (and hearts) and selling out over 109 shows worldwide. He's seen by fans as a beacon of kindness, so we're pleased we can bring a little light and excitement to all those dreaming of coming face to face with the man himself."
Jo Kinsey, Studio Manager and Figure Artist, who met Harry when crafting his first figure, said: "I've been lucky enough to work on both the Harry Styles figures here at Madame Tussauds London and actually met him and the rest of One Direction back in 2013!
"It was a once in a lifetime experience and my overriding memory is of him being incredibly kind, making sure we had everything we needed – and even letting us stay to see the show and singing to us off stage! Recreating his figure this year was a wonderful experience, that really took me back to that moment. We've worked hard to ensure that his genuine kindness really shines through and seeing the fans' reactions this evening has made all our hard work worthwhile."