Kanye West launched
Tuesday 1st September 2015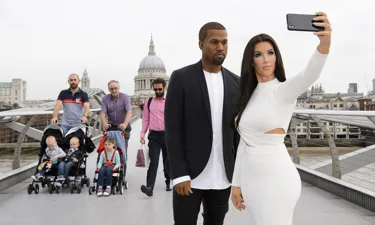 Visitors around London were stopped in their tracks yesterday as Kim Kardashian and Kanye West posed for selfies at some of the most famous photo hot spots in the Capital.
In an exclusive social media photo album posted today, we've revealed a unique set of holiday snaps taken by the power couples' wax figures during a special sightseeing tour to welcome Kayne to town.
A brand new likeness of "the greatest living rock star on the planet" is joining his wife's recently revealed 'selfie taking' figure, but before they were united here at Madame Tussauds on Baker Street the couple visited some other famous locations – much to the delight of fans on the street.
The duo were spotted at Big Ben, Buckingham Palace, St Paul's Cathedral, The Coca-Cola London Eye, the Tower of London, Eros at Piccadilly Circus and Tower Bridge taking a variety of selfies together, and with fans, as they went.
"No one loves a holiday selfie more than Kim Kardashian, who famously took 1,200 pictures of herself to send to husband Kanye whilst on holiday in Thailand last year", explains our PR Manager, Nicole Fenner.
To celebrate Kanye joining his wife in wax at Madame Tussauds London, we decided to treat the couple to a whistle-stop city tour and create a special set of holiday selfies at some of the most photographed destinations in the World.
Kanye joins Kim's 'selfie taking' wax figure, which we revealed last monthn. You're invited to pose for selfies alongside the pair, which will be captured by Kim's mobile phone in front of a constantly changing backdrop. Kanye will be dressed stylishly as ever in leather trousers and white shirt finished with sharp black blazer. Each figure took four months to complete at a cost of £150,000 each.