Kim Kardashian Unveiled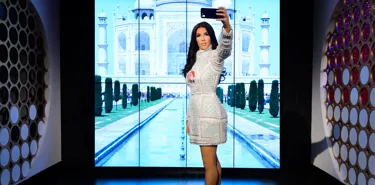 We've revealed the very first 'selfie taking' wax figure of the Queen of the craze herself, Kim Kardashian, dressed in one of her all-time favourite gowns, recreated in fine detail by Balmain Paris. Kim's likeness is portrayed in ultimate selfie pose - arm extended and mobile phone poised to capture that perfect picture.
Guests were delighted to slide up beside her and strike their own poses this morning, pressing the button on the figure's mobile to capture their very own selfie with Kim. And thanks to an ever changing backdrop they all got a very different selfie moment – from apparently bumping into the star in front of the Eiffel Tower to hanging out at the local supermarket!
The figure shows Kim at her flawless best with long hair parted in the centre, gently waved and showing off her famous curves to full effect in her show stopping jewelled batcherlorette party dress, kindly recreated bead-by-bead by Balmain Paris.
The dress features thousands of individual beads and is inspired by the Faberge egg Richard Burton bought for Elizabeth Taylor. With a beautiful floral panel, the white and pale blue dress was recently declared by Kim on Instagram as one of her favourite ever.