Madame Tussauds London enlists etiquette expert to launch delectable new dining experience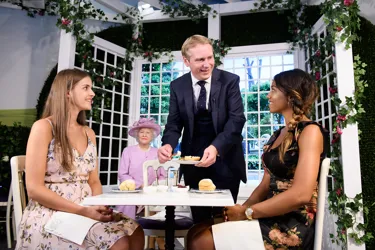 This week we  enlisted the expertise of Royal Butler, Grant Harrold, as we invite you to take a seat alongside 'Her Majesty the Queen' in our new immersive dining experience, Royal Tea.
The latest addition to Madame Tussauds London, Royal Tea, offers a truly regal experience as guests take a break from celebrity-spotting to indulge in a scrumptious afternoon tea set in the iconic Buckingham Palace garden. Joined by a brand new figure of the Queen, guests can even catch a glimpse of her beloved corgis whilst enjoying a selection of delicious finger sandwiches, cakes and scones baked freshly on-site - a feast fit for a Queen (or King!).
To help our guests feel confident at the table with Her Majesty, we invited Royal Butler Grant Harrold to present a lesson in dining decorum at the new experience.  Formerly butler to the Prince of Wales and Duchess of Cornwall, Grant has provided tips including how to correctly fold a napkin, how to make the perfect cup of tea and answering the age-old question of the scone – is it pronounced sc-on or sc-own?
Grant Harrold's royal top tips include:
Do not proffer a handshake until the Royal has extended their hand first
Treat the Royal like an oil painting, respect but do not touch
Always wait until the Royals, or ladies, are seated before taking one's own chair
When seated for dinner, the crease of a folded napkin is always directed away from the lady to allow discrete dabbing
Stir your tea carefully, we don't want a storm in your tea cup
Unless one is eating them in Devon, scones should be prepared with jam first - scone is also pronounced sc-on, not sc-own
Finger sandwiches should be eaten delicately with your fingers, no need for a knife and fork
Grant Harrold, the Royal Butler commented, "Having worked with royalty for a number of years, it was a surreal yet familiar experience to meet 'Her Majesty' at Madame Tussauds London. I hope guests will find my royal tips helpful and be on their best behaviour when they dine with the Queen at Royal Tea."
Steve Davies, Madame Tussauds London General Manager, said: "Many people would love the chance to enjoy a spot of tea with the Queen and who are we to disappoint. Hidden within the excitement of Madame Tussauds London we've created an immersive space that uses all the senses to transport guests to the elegant garden of Buckingham Palace .With Grant's tips they are ready for a quintessentially British royal treat alongside 'Her Majesty'."
Royal Tea at Madame Tussauds London is available from £15 per person, with a breakfast selection also on offer and individually priced.