Madame Tussauds London's Royal Balcony officially opened by the Queen... of the Jungle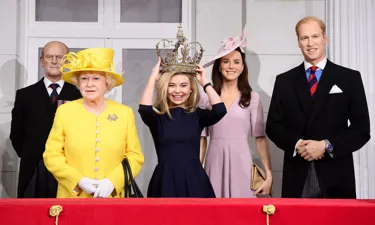 Today we invited Queen of the Jungle Georgia 'Toff' Toffolo to officially open our newest experience – the Royal Balcony.
From George V's appearance on the eve of the First World War to Prince William and Kate Middleton's post-wedding kiss in 2011, the Buckingham Palace balcony has been the setting of many iconic moments in British history. Now our guests can experience life as a royal as they step up onto the balcony to a magnificent fanfare and wave to their subjects.
Georgia Toffolo said: "I may have been Queen of the Jungle for a few months now but I haven't yet been invited to Buckingham Palace. Madame Tussauds London is definitely the next best thing – I've loved taking my place alongside the rest of the family on the Royal Balcony. The whole experience has made me feel like a true royal and I can't get over the likeness!"
The Royal Family set is one of our most popular sets and each figure has been restyled to reflect their change of scenery. Prince Philip, the Prince of Wales and the Duke of Cambridge are all dressed smartly in morning suits. The Duchess of Cambridge and the Duchess of Cornwall wear colourful outfits topped with millinery masterpieces by Jane Corbett and Philip Treacy, respectively. Finally the Queen stands proudly in a flourish of colour, front and centre of the Royal Balcony experience.
The Royal Balcony experience is the latest announcement in a year of royal celebrations at the famous London attraction. It follows hot on the heels of last week's news that a Meghan Markle figure will join Prince Harry in time for the royal wedding, with further regal announcements expected in the coming weeks.