Madonna strikes a pose as she takes to the tube as a 60 year old
Thursday 16th August 2018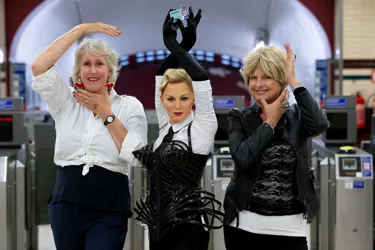 The Madame Tussauds London figure gets into the groove alongside her fellow sexagenarians
14 August 2018: To celebrate the Queen of Pop turning 60 this week, Madonna's Madame Tussauds London figure was spotted taking to the London Underground this morning with her 60+ Oyster photocard.
Heading on to the platform at her local Baker Street station this morning, Madonna was joined by two successful women who've also passed the diamond age, Jane Felstead and Lucia Whitehouse, both known for their style and sass, just like Madge herself. The fierce ladies could be seen striking a pose, reminiscent of Madonna's infamous Vogue video.
Jane Felstead, 66, (also known as Mummy Felstead) is best known for her appearance in the Channel 4 series 'Made in Chelsea', alongside her daughter Binky. She also has her own column as an agony aunt on the MailOnline – 'Ask Mummy Felstead'. Lucia Whitehouse, aka Grandmother Pukka, is also 66 years old and is the ultimate Insta-Gran, with 21,500 Instagram followers. This is the second time in her life that she's encountered Madonna, having watched her at Wembley Arena in the noughties. 
Once entering their sixties, Londoners can take advantage of free travel on buses, Tube and most rail services thanks to the 60+ Oyster photocard, providing they live in a London borough, something that Madonna's figure can attest to, thanks to her permanent residence at Madame Tussauds London.
Steve Davies, general manager at Madame Tussauds London, said: "Madonna continues to reign supreme as music royalty and her mark is seen across music and fashion to this day. People of all ages have grown up with her music and guests still flock to our attraction to strike a pose with her figure. We're wishing a very happy 60th birthday to her Madgesty from all who love her at Madame Tussauds London."
To continue the celebrations the famous Baker Street attraction will be offering free entry for one day only to anyone who shares their birthday with Madonna on 16th August. Getting to the attraction by public transport is quick and affordable. Baker Street station, which is served by five Tube lines is just a short walk away and buses regularly serve the local area.