Meghan's Mingling with the A-listers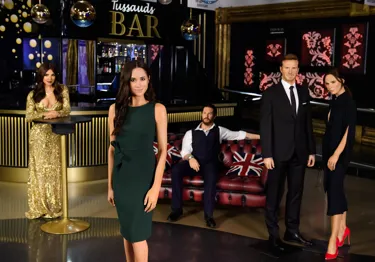 Meghan Markle's figure takes up residence in Madame Tussauds London's glitzy A-List Party room
Today we announced that Meghan Markle's figure is to be moved in the attraction to reflect her A-list roots, rather than her royal status.
Meghan will be reunited with her showbiz pals, including Tom Hardy, the Beckhams and Priyanka Chopra Jonas – all of whom attended her star-studded wedding to Prince Harry last May – in our A-list Party room. Meghan's likeness will be moved from the side of her adoring husband for the first time since being unveiled in May 2018. Prince Harry will re-join his family's royal likenesses, leaving Meghan to command attention alongside 'celeb royalty' as one of the attraction's most popular A-listers.
Steve Davies, General Manager at Madame Tussauds London, said: "At Madame Tussauds London we're always listening to what people have to say about their favourite stars. Meghan continues to carve out her own modern take on life as a Royal and we want to mirror her independent celebrity status in the attraction.   
"It's not necessarily forever – and we're not splitting our loved-up couple! We're just allowing Meghan to mingle in her more-familiar celebrity circle for a while."
Guests can see if Meghan's move 'Suits' her whilst catching a glimpse of many other famous faces at our Baker Street attraction.