Michael Bublé comes face-to-face with... Michael Bublé!
Saturday 14th December 2019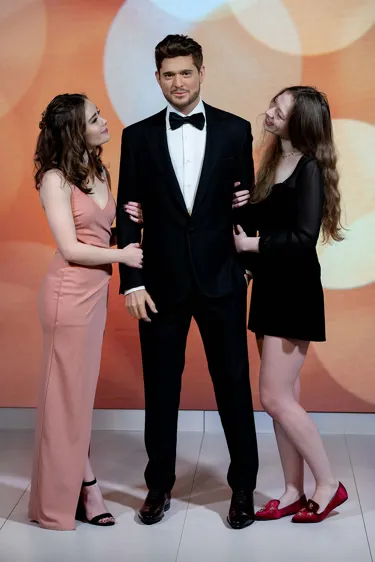 Visitors to Madame Tussauds London will be 'Feeling Good' today as Michael Bublé's new figure takes centre stage at the attraction, following its grand reveal on BBC One's The Graham Norton Show last night. 
During an appearance on the show back in November 2018, Bublé revealed his own penchant for Madame Tussauds' attractions, but that, much to his disappointment, he did not have a figure of his own. Enter stage left Madame Tussauds London, who have now unveiled his likeness and fulfilled the multi-Grammy award winner's dream.
Returning to The Graham Norton Show last night, Bublé excitedly revealed his new double to the world, and let everyone know that it will take up residency at the famous Baker Street attraction from today.
Speaking about his excitement at joining the world-famous attraction, Michael Bublé said: "It's a joy and an honour to join the ranks at Madame Tussauds London. My family has always loved visiting, and taking our pictures with famous names throughout history, and now I get to be one of them which is a lot of fun!"
Bublé worked closely with our artists on the creation of his figure, choosing to be immortalised in his signature red carpet pose and styled in a dapper tuxedo made especially for the figure by Stefano Ricci, one of Bublé's favourite designers. 
As the renowned master of jazz, swing, and smooth vocals, Madame Tussauds London will be honouring Bublé's worldwide acclaim as he moves into the A-List Party room, surrounded by an array of fellow A-Listers– including Dwayne Johnson, Tom Hardy, and the Beckhams.