Miley Cyrus Launched
Wednesday 18th March 2015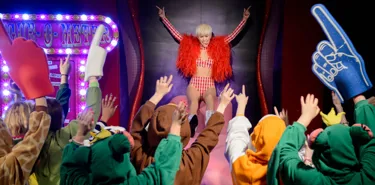 Fans of provocative singer, songwriter and social media force, Miley Cyrus, had plenty to Instagram last night as Madame Tussauds London launched a brand new wax figure of the star, in spectacular show-stopping style.
From today, guests can visit Miley's likeness as she sits seemingly just about to whizz down a neon-pink, tongue-shaped slide, created in homage to her recent sell-out The Bangerz Tour. The flamboyant slide ensures the superstar songstress is well and truly in the spotlight in the world famous attraction's Music area.
Fans joined Miley Cyrus' figure on stage and were quick to give the wax likeness their 'smiler' seal of approval. Megan Whiteside, aged 16, from Horsham commented: 'I was so shocked to see her, she is so beautiful and really lifelike. It really does her justice!'
Nicole Fenner, PR Manager at Madame Tussauds London, added: 'Miley Cyrus' stage shows are cheeky, wild and fun, and we wanted to bring a 'taste' of this into the Madame Tussauds London for her fans over Easter!'
Plus over the Easter holidays, fans can grab a selfie stick for a perfect #tonguefie with the superstar - measuring up to Miley in the 'tongue' stakes with special tongue rulers.
Miley's figure rocks a typically cheeky look with cropped blonde hair and a bejewelled red and white checked outfit, adorned with look-at-me feather-embellished jacket.