'The Egyptian King' Earns His Madame Tussauds London Crown
Thursday 21st October 2021
Mo Salah, Figure Launch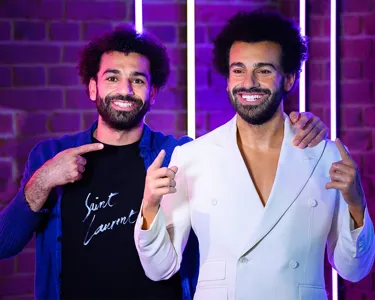 Footballing superstar Mo Salah came face to face with himself at Madame Tussauds London, as the Liverpool forward and fan favourite became the latest globally renowned star to unveil their figure and join our line up.
Salah, arguably the best footballer in the world right now, saw his finished figure for the first time in a private viewing at Madame Tussauds London this weekend ahead of its launch, and posed side by side with his likeness.
Salah worked closely with our team of artists, attending a sitting where hundreds of precise measurements and reference photographs were taken to ensure his figure, like him, is match ready. 
Out of his usual Liverpool kit and dressed to impress in Madame Tussauds London's Awards Party zone Salah's figure stands tall in the cream suit he wore on the front cover of GQ Middle East magazine, with his fingers pointing upwards in his classic red carpet pose and goal scoring celebration.
On being honoured with a Madame Tussauds London figure, Mo Salah said, "It's been an amazing experience working with the artists at Madame Tussauds London to create my first ever wax figure.
"It's a blessing to be recognised and immortalised in this way. I couldn't believe it when I stood alongside 'me', it's like looking at my own reflection in a mirror! I can't wait to see what the fans think." 
Mo Salah's likeness will arrive at the attraction from 22 October and join fellow A-listers in our Awards Party zone, including David and Victoria Beckham, the Duke and Duchess of Cambridge, Dwayne Johnson, Helen Mirren, Brad Pitt and Priyanka Chopra Jonas.
Book tickets here.