Our new Ed Sheeran figure gets seal of approval from feline fans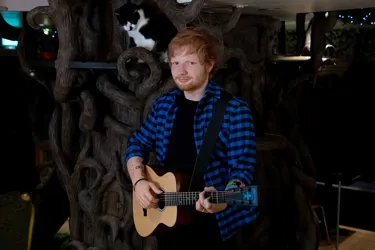 Today we unveiled our long-awaited figure of the iconic British pop star, Ed Sheeran, just in time for his mammoth ÷ UK tour which hits London this week. Standing 'gig ready' with his trusty electro acoustic guitar in hand, Ed's likeness was unveiled this morning in a rather unusual location – Lady Dinah's Cat Emporium in Bethnal Green, London's famous cat café.
Looking like he's about to take to the stage sporting his famous tattoos, red hair and a check shirt Ed's likeness will be available for guests to see in attraction from Tuesday 19th June. The figure will stand alongside a giant interactive guitar that guests can play to bring Ed's songs to life. Joining a plethora of home-grown British musicians such as Adele and One Direction, Ed's figure is the first music addition to the famous London attraction in 2018.