Queen Bey steals the crown at Madame Tussauds London
Thursday 19th September 2019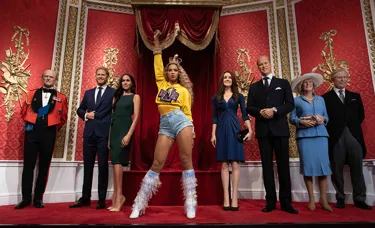 Guests at Madame Tussauds London will see a whole new Royal 'Formation' today as Beyoncé's latest figure takes the spot traditionally reserved for The Queen. Queen Elizabeth II's figure will step aside for one day only to mark the unveiling of Queen Bey's brand new figure.
2019 has been yet another stand-out year so far for the multi-award-winning artist, with the release of her show-stopping 'Homecoming' film and album. We decided the only fitting way to laud official music royalty is to position her on the most regal of all stages alongside her Royal pals, The Duke and Duchess of Sussex.
As the music industry's most formidable performer, Beyoncé's new figure stands confidently in her 'Run the World' power pose. The outfit choice pays homage to Beyoncé's history-making headline performance at Coachella 2018, styled in the superstar's iconic yellow Balmain hoody and shorts ensemble. 
Steve Davies, General Manager at Madame Tussauds London, said: "Beyoncé is a living legend, rightly crowned Queen Bey by her legions of fans and industry insiders. If anyone is fitting of a claim to The Queen's spot in our attraction for the very first time, it's Beyoncé.
"HRH Queen Elizabeth II is famous for her mischievous sense of humour and we think a wry smile will cross her face when she sees that music royalty has temporarily filled her shoes. In the words of Beyoncé herself, Her Majesty is most definitely 'irreplaceable' so Queen Bey will take her spot for one day only before her figure moves to own our music stage."
Beyoncé will be fronting the alternative Royal 'Formation' for one day only, before reigning supreme in our music zone from Friday 20th September. 
Madame Tussauds London's latest arrival is the first of two Beyoncé figures set to join the world-famous attraction. Fans should keep an eye out for the second figure to be unveiled at Madame Tussauds Las Vegas this October.