Ranveer Singh accepts Madame Tussauds of the Future Award at star-studded NEXA IIFAs
Monday 23rd September 2019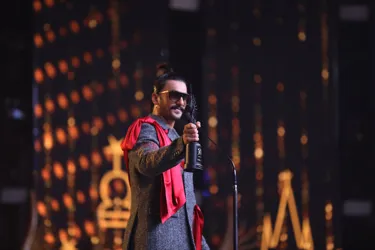 Last night, Bollywood superstar Ranveer Singh walked away from the NEXA 20th International Indian Film Academy (IIFA) Awards with two new accolades under his belt and made the exciting announcement that he will join Madame Tussauds' A-List line-up next year.
Best known for his roles in films including Padmaavat and most recently Gully Boy, the Forbes India Celebrity 100 regular walked away with the Best Actor gong and Madame Tussauds of the Future Award. Adding to the night's significance, the NEXA IIFAs glittering Homecoming Edition event, marking the illustrious awards ceremony's 20th year, took place in Ranveer's hometown of Mumbai.
A star-studded audience of Indian cinema's top talent – including Salman Khan, Vicky Kaushal, Madhuri Dixit, Katrina Kaif and Deepika Padukone – was there to see Ranveer accept his award and announce his upcoming figure.
On accepting the Madame Tussauds of the Future Award Ranveer said: "Wow, I'm damn excited. This is amazing. I remember as a kid I used to be an encyclopaedia geek and they used to talk about this mythical place called Madame Tussauds…I was going through my Mum's early pictures and I would say, 'Mum, where did you get a picture with The Queen?' and she would say, 'that's in Madame Tussauds London.' Since childhood it's always been a very mythical place for me so to be immortalised as a figure there is truly a very, very proud thing for me.
"When my wife's launch was happening my mother-in-law was like, 'come on now, you have to work hard if you want a figure of you also.' Mamma, we're going to London!"
Speaking to his wife, Deepika Padukone, from the stage, Ranveer added, "I'm going to figure out my pose, figure out my dress. It's going to be you and me baby, husband and wife at Madame Tussauds London – boom baby."
Steve Davies, General Manager at Madame Tussauds London, said: "Ranveer is the first 2020 figure that we have announced and what a way to start! We're privileged that Ranveer will be working closely with us to ensure the figure embodies his inimitable style and huge star power.
"Ranveer visited our attraction earlier this year for the unveiling of Deepika Padukone's figure. As Bollywood's most in-demand couple it will come as no surprise that we've been inundated with requests for Ranveer's figure to join his wife ever since!" 
The world-famous attraction is remaining tight lipped about details surrounding Ranveer's figure until its arrival next year. The London launch will co-inside with the creation of a second figure for Madame Tussauds Singapore.
Andre Timmins, Co-Founder-Director- Wizcraft International, said, "IIFA has always been at the forefront in promoting Indian cinema in various facets and has always endeavored to act in the best interest of the Indian Film Industry to build better avenues for community engagement, cultural exchange, business and trade, tourism and cinema ties. Since 2007, IIFA has been advocating the environmental agenda having launched the concept of 'greening the IIFA's' with bright green carpets instead of traditional red ones to planting trees, to partnering with United Nations and multiple charity organisations to make a difference to our home, our world. We are thankful for the industry who has helped and supported us during our 20 year old journey that has made IIFA a global phenomenon. And for our homecoming edition we celebrate another successful year for IIFA and Indian cinema we are sure that it will be Magical memorable experience for all."