'Tales from The Chamber' two week pop-up attraction coming to Madame Tussauds London this Halloween
Monday 30th September 2019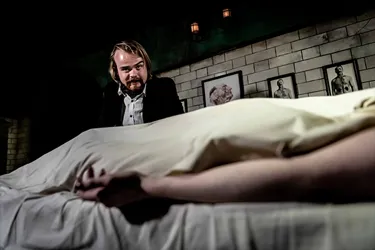 The home of fame will become the home of the infamous this Halloween as we bring some of history's most notorious murders back to life in a brand-new theatrical pop-up, Tales from The Chamber.
Set in the basement of Madame Tussauds London where the original Chamber of Horrors once stood, the actor-led experience will transport you into four terrifying true murder stories which were once featured in the iconic attraction. Not for the feint-hearted or squeamish, Tales from the Chamber will run from Saturday 19th October through to Sunday 3rd November and is recommended for those aged 15 and over.
Amid the action (and the gore), you will also encounter genuine artefacts and original possessions of the monsters behind some of history's most chilling murders. With a strictly limited two-week run, those brave enough to enter will have an exclusive opportunity to come face-to-face with morbid historical curiosities. Marie Tussaud and her family collected these frightful relics since the 1800s; from evil poisoner Dr Crippen's spectacles to the original Victorian perambulator used by Mary Eleanor Pearcey to transport the corpses of her lover's wife and her young child. 
Find out more about the featured stories and buy your tickets here.