The Royal family don Christmas jumpers to support Save the Children
Tuesday 6th December 2016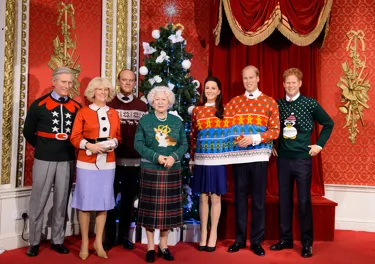 Madame Tussauds London and Save the Children today royally kicked off the charity's annual Christmas Jumper Day campaign, by dressing The Queen's wax figure in a festive woolly pully.
With silliness set to sweep the nation as people don their daftest knit on Friday 16th December for Christmas Jumper Day, Her Majesty's likeness didn't want to miss out on the festive fun and was joined by Prince Philip, the Duke and Duchess of Cambridge, Prince Harry, the Prince of Wales and the Duchess of Cornwall.
With Catherine and William sharing their own cosy double-jumper, the Royal line up was surrounded by The Queen's favourite companions, four real corgis, dressed in their own mini-Christmas jumpers. The royal wax figures can be seen wearing the knits throughout December in Madame Tussauds London, with visitors encouraged to grab a selfie with the Royal likenesses. The attraction will also give visitors the option of donating to help Save the Children.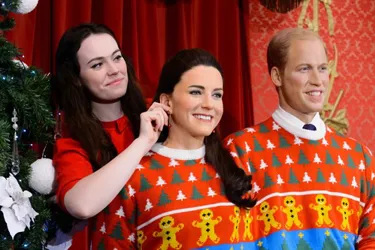 Edward Fuller, General Manager of Madame Tussauds London, said: "We are delighted to be able to support Save the Children by having our Royal wax figures join in with Christmas Jumper Day campaign in a seriously stylish way!  Throughout the festive period, our guests can enjoy seeing Her Majesty and the Royal Family in their jumpers. We'll be encouraging everyone to take a truly unique picture with the Royals and donate in any way they can."
Helena Wiltshire, Head of PR at Save the Children, said: "With the trend for silly Christmas Jumpers showing no signs of slowing down, we're hoping more people than ever will don theirs and pay £2 to help raise money this Christmas Jumper Day. If the Royal likenesses are anything to go by there will be lots of families up and down the country taking their silliness very seriously, to help children around the world that are most in need of our help and support. Who knows, maybe the Queen will feel inspired to do her annual speech in a more laidback get up this year!"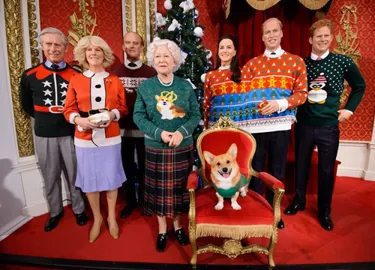 The best bit is that all this silliness has a serious purpose. By sticking on a daft sweater, signing up and donating £2 to Save the Children (£1 for schools taking part) at christmasjumperday.org, people will be helping the charity do whatever it takes to make sure the world's forgotten children have the chance of a brighter future. Whether that's giving a child living in a refugee camp clothes to keep them warm through winter, helping to buy nutritious food for their entire family, or setting up a safe space to give them the chance to be children again.