There's Mo place like Madame Tussauds London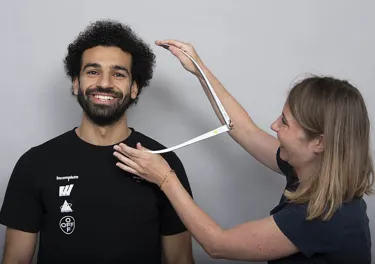 Today we revealed plans for the first ever figure of international football superstar, Mo Salah, to join our squad later this year.
Widely regarded as one of the best players in the world, the international superstar and fan favourite took time out of his busy schedule to attend a sitting with our artists where hundreds of precise measurements and reference photographs were taken. Mo and his team will continue to work collaboratively with us throughout the creation of his likeness.
Mo Salah said: "I am so excited to be working with the artists of Madame Tussauds on my first ever figure."
Fans around the globe can be certain that the big reveal will be Mo-mentous, with the Premiere League goal-scoring record-holder due to be unveiled later this year.
Steve Davies, General Manager at Madame Tussauds London, said: "We're kicking off 2020 with this announcement which is sure to be a crowd-pleaser for football lovers around the world. As Egyptian Forward and currently both European and World Club Champion with Liverpool FC, Mo Salah is a global star at the peak of his power. We know that fans will love seeing him at the home of celebrity, where he rightly belongs."
Keep an eye on Madame Tussauds London's social channels over the coming months for more news on Mo's much-awaited arrival.