Zoe & Alfie meet their clay heads!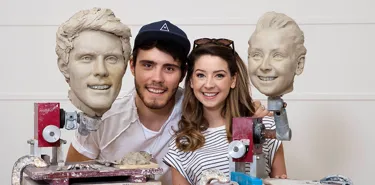 YouTube stars Alfie Deyes and Zoe Sugg got a glimpse of work in progress on their wax figures at a second sitting in Brighton yesterday, where they came face-to-face with perfect clay sculptures of their heads.
The pair had some fun trying their hands at putting some finishing touches to the clay work and in 'PointlessBlog' spirit Alfie and Zoe were even set a 'pointless clay challenge'.
The clays, which bear an uncanny resemblance to them, will be used to make the wax moulds for their figures, scheduled to be unveiled here at Madame Tussauds London this autumn.
Both Zoe and Alfie were amazed with the progress so far, commenting: 'It's so exciting to see the clay sculptures – we can't wait to meet our finished wax doubles.'
The figures will be featured in a special YouTube area here at Madame Tussauds London, portrayed as their fans are used to seeing them, lounging on their bed in their spare bedroom uploading content to their massively popular channels.