Zoella & Alfie unveil their wax figures!
Tuesday 29th September 2015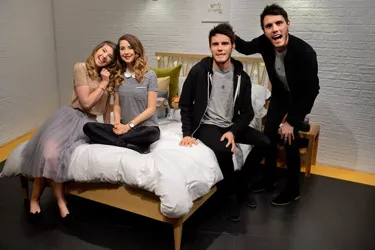 We've opened the doors to a new YouTube themed area, featuring wax figures of two of Britain's biggest 'vlog stars', Zoe Sugg and Alfie Deyes. You'll be able to step into the epicentre of the couple's 'vlogsphere' and sit beside their likenesses in an exact replica of their spare bedroom, where both often vlog from.
Some of Zoe and Alfie's biggest fans were overjoyed at the chance to hang out with their favourite YouTubers at the unveiling, joining the couple's figures for a compulsory selfie and capturing the moment to share on social media via a special 'vlog box.'
Twelve year old fan Cassie Ebel commented "It's absolutely amazing, you really feel like you're sitting next to them in their room, even though you're not". Cassie's cousin Frazier, 16, agreed, adding "I watch their vlogs every single day, the figures were startlingly realistic! The second I walked through the door I just couldn't believe it".
Followers of Zoe and Alfie are used to watching the couple document their lives through vlogs, but our new YouTube area will allow you to step into and feel like you are a part of it all. We are extremely excited to welcome them as our very first vlog stars and with an established position as two of the UK's most influential YouTubers we are sure fans will share our excitement.
YouTube's Senior Director in EMEA, Stephen Nuttall, said: "Your very own Madame Tussauds figure is akin to a star on the Hollywood Boulevard - it's recognition of your status as a cultural icon. Zoe and Alfie have charmed the world through YouTube - their channels combined have over 13 million subscribers. They've rewritten the content rulebook; developed a hugely engaged global audience of fans; have best-selling books and bonafide star status. YouTube is what happens when tech and creativity collide - and I can't think of a better way to celebrate our 10th birthday than through the success of our stars."
Not only were Zoe and Alfie closely involved with the creation of their wax figures and recreating their 'vlogsphere', with a donation of the Ruby Ruth Dolls that appear in the background of many of her vlogs, but so were their fans. Voting on the lipstick her wax figure would wear, as well as picking out which colour t-shirt Alfie should be dressed in - the final poll revealed that Zoe would wear Kate Moss 107 by Rimmel and Alfie a speckled grey t-shirt.