We're giving our Music zone an exciting makeover so Dua Lipa's figure is temporarily hanging out with some of her famous friends in our Awards Party area.
The Glow Room
Strike a pose with Dua as a rig of 10 cameras fire sequentially to create a free 3D gif which you can download and share on your social media. 
Dua Lipa's figure wears an outfit donated by the lady herself which she wore during her Glastonbury performance of 2018.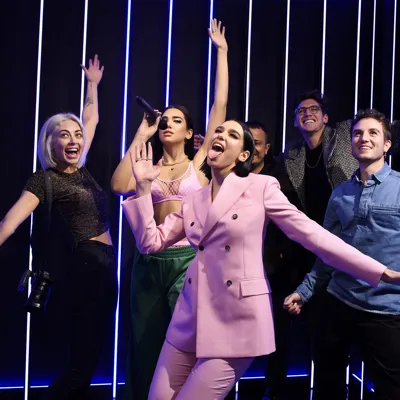 Surprise!
Jaws dropped at Madame Tussauds London as Dua Lipa thrilled super-fans with a surprise appearance to celebrate the launch of her incredible new figure and experience, the Dua Lipa Glow Room, in February 2019. Excitement levels soared as the star snuck into the world-famous attraction, unbeknown to fans who had won the chance to be the first to try out the Glow Room.
Talking to her fans about the unveiling, Dua said "It blows my mind! It's pretty crazy to see…it come to life. I'm hoping I can take it home with me!"
Feel like a superstar with Dua Lipa in the Glow Room, book your tickets now!