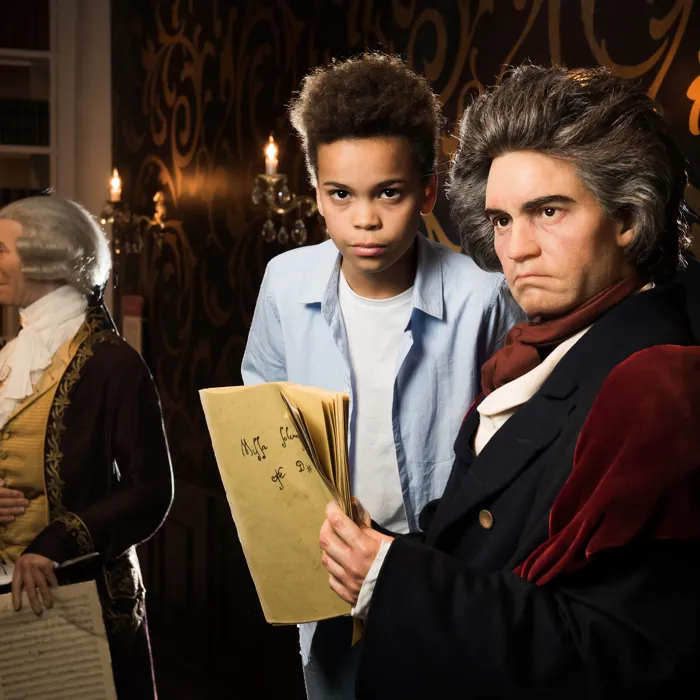 Ludwig van Beethoven im Madame Tussauds™ Wien
Worth knowing:
He was born as Ludwig van Beethoven on 16th December 1770 in Bonn, Germany. Beethoven has had a profound influence on generations of composers since the 19th century. His compositions were an important demonstration of the transition from 18th century classicism to 19th century romanticism and he is considered by many scholars to be the first true romantic composer. The German composer influenced the Viennese Classicism a lot and is seen as a pioneer of Romanticism. In the first period of his work he followed Haydn and Mozart, until he finally found his own style.
He is not even 30 years old when he first got problems with his ears – unfortunetly these issues got even worse and Beethoven got deaf by the age of 40. With his deafness it is not only difficult to compose, it also makes him so lonely that he thinks of suicide. He has to hide his deafness before others, because otherwise he would not have jobs anymore. However, it could no longer hide, because from 1813 on, he needs ear trumpets, to communicate with its environment. Although this did not effect his composing capabilities it made performing extremely difficult for him, and he often communicated using a notebook.
Beethoven died in Vienna, Austria. His funeral was held at the church of the Holy Trinity and was attended by thousands of people, including fellow composer, Franz Schubert. His legacy of nine symphonies, five piano concertos, 16 string quartets, 32 piano sonatas as well as the opera "Fidelio", make him the central figure of classical music.