Katniss Everdeen unveiled
Thursday 18th December 2014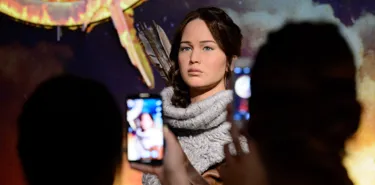 We've revealed our newest figure, Katniss Everdeen, protagonist of the worldwide phenomenon The Hunger Games franchise, in its own immersive setting.
Following the release of ''The Hunger Games: Mockingjay - Part 1'', we have also launched wax likenesses of Katniss, portrayed by Academy Award® winner Jennifer Lawrence, at our New York and Hollywood attractions.
The figure here in London portrays Katniss' in her hunting outfit, which she wears in the second installment of the franchise, ''The Hunger Games: Catching Fire''. Teamed with her iconic brown leather hunting jacket, are dark charcoal trousers, knee-length tie-up leather brown boots, plus brown leather quiver (arrow bag) and trademark bow. Her hair is also styled in her iconic braid.
The figure is in its own film-specific backdrop, allowing our guests to get up close to Katniss and the beloved story of ''The Hunger Games''.
Paula Kupfer, SVP Worldwide Promotions and Consumer Products from Lionsgate, added: "We are delighted to have worked with Madame Tussauds London, New York and Hollywood on these immersive fan experiences."