Katrina Kaif Unveiled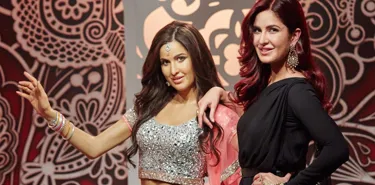 2015 is the 15th anniversary of Bollywood here at Madame Tussauds London, and to celebrate we've created a glamorous new setting for our Indian film stars, which was officially opened when actress Katrina Kaif revealed her brand new wax figure.
The stunning star becomes the seventh Bollywood actor to be honoured with a figure here at Madame Tussauds London - her inclusion has a special significance as she was voted for by fans, just as Amitabh Bachcahn was in 2000.
Katrina, who collaborated closely with our artistic team to ensure total accuracy, was delighted with the figure, which is portrayed in a dancing pose wearing a beautiful sequined white, silver and gold, two piece outfit by Manish Malhorta.
"It's an amazing honour to be asked to be featured alongside icons of the Indian film industry," the actress commented. "I have really enjoyed working with the team and am delighted with the end result. I can't believe how detailed and accurate it is. It is just like looking in a mirror in 3D."
"We have a long and strong relationship with the Indian film industry and our Bollywood figures are hugely popular with guests," commented our General Manager, Ben Sweet.
He continued: "We are delighted to welcome Katrina to the ever growing Bollywood A-list here, the first to be featured in a glamorous new setting where guests can get up close with some of the biggest film stars in the world, from Amitabh Bachchan and Shah Rukh Khan, to Aishwarya Rai and Madhuri Dixit-Nene".