The Markle Sparkle arrives at Madame Tussauds London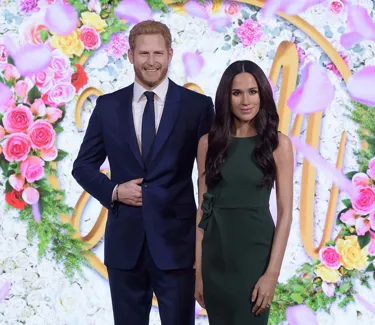 As the world holds its breath ahead of the royal wedding, today we unveiled our most eagerly-awaited figure: Meghan Markle, which guests can meet from Saturday 19th May.
'Her Royal Likeness' and husband-to-be, Prince Harry, will feature in the attraction in front of a 15 foot wide video wall that allows guests to choose how they would like to hang out with the much-loved couple. Guests can select from a range of backdrops and props to capture a moment with the young Royals – from the cutting of the cake at their wedding to relaxing on a private beach. 
Dressed in their famous engagement announcement outfits, Meghan's figure sports the sold-out P.A.R.O.S.H. dress and a replica of the engagement ring designed by Harry himself, with some added Madame Tussauds London magic to make it sparkle elegantly on the future Duchess' perfectly manicured hand. Harry's figure – originally created to mark his 30th birthday in 2014 – has been updated for the special occasion, most notably adding the Royal's dashing beard.
The first chance to catch a glimpse of 'Their Royal Likenesses' will be on Meghan and Harry's last night of freedom. Tickets are on sale for a special over-18s hen and stag do from 7.30pm on Friday 18th May at the iconic location, complete with a bar and live DJ – the perfect way to party with the golden couple ahead of their big day. Find out more here.
Bringing the street party to Baker Street on the day of the royal wedding (Saturday 19th May), our famous figures will be patriotically dressed to the nines and we will be streaming live coverage of the big event to guests as the royal bride and groom's figures make their official arrival. We're also be offering free entry to guests named Meghan or Harry for one day only.
With royal wedding fever extending across the Atlantic, Madame Tussauds London's sister attraction in New York will also reveal its own Meghan figure today. Marking the first time a U.S. citizen will join the British Royal Family in 80 years, the Times Square location will display their 'American Princess' in another striking outfit from her royal journey so far.