Madame Tussauds, Culture Capital
Sir David Attenborough has arrived at Madame Tussauds London!
Sir David Attenborough is a distinguished British broadcaster and natural historian known for his lifelong dedication to wildlife and environmental conservation. He began his career in the 1950s with the BBC, producing and presenting documentaries that captured the beauty of the natural world. His iconic series like "The Blue Planet" and "Planet Earth" have enchanted audiences with their breath-taking visuals and Sir David's distinctive narration.
Beyond his role as a broadcaster, Sir David is a passionate advocate for conservation, using his documentaries to raise awareness about environmental issues, such as climate change and biodiversity loss. His work has earned him numerous awards and honours, including knighthood, and his influence has inspired countless individuals to appreciate and protect the planet's fragile ecosystems. Sir David Attenborough's legacy is one of unparalleled dedication to educating the world about the wonders of nature and the urgent need to preserve it.
Sir David Attenborough's figure joins the ranks of the star studded line-up at Madame Tussauds London. Guests will be able to meet this national treasure standing proudly alongside the likes of other staples of British culture: Stormzy, Princess Diana, and Lewis Hamilton.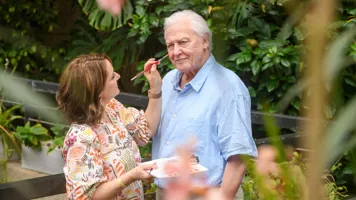 And here we have... a national treasure spotted amongst an urban jungle
We unveiled Sir David's new figure in the stunning Barbican conservatory surrounded by over 1,500 species of plants and trees, some of which are endangered and rare in their native habitat.
Our talented team of studio artists used hundreds of reference photos and hours of footage to carefully craft Sir David's new figure to ensure his likeness is true to 'Life', styling Sir David in his signature short sleeved light blue shirt, khaki-coloured chinos and tasteful watch.
Check out our video to see how we unveiled Sir David Attenborough's figure!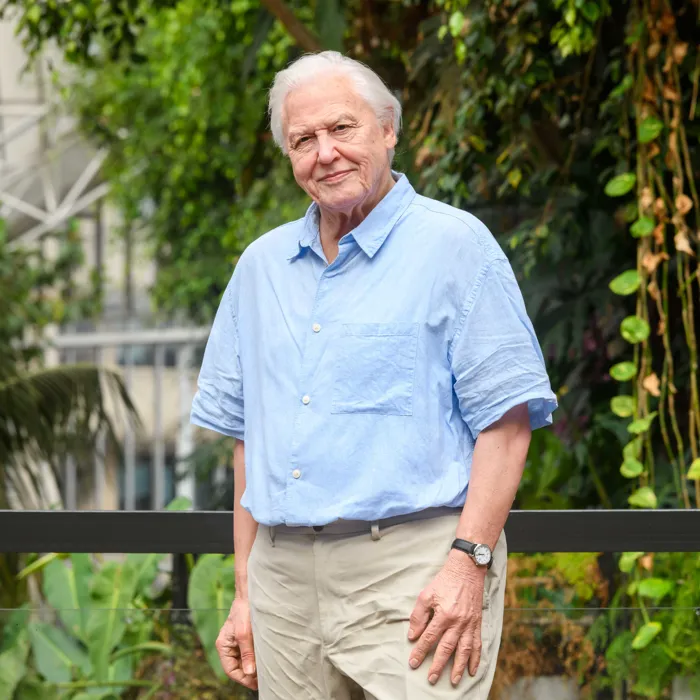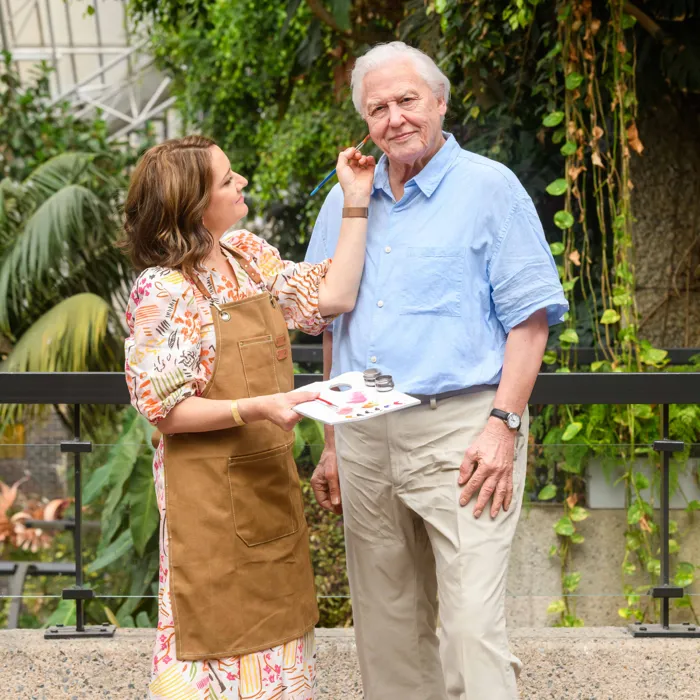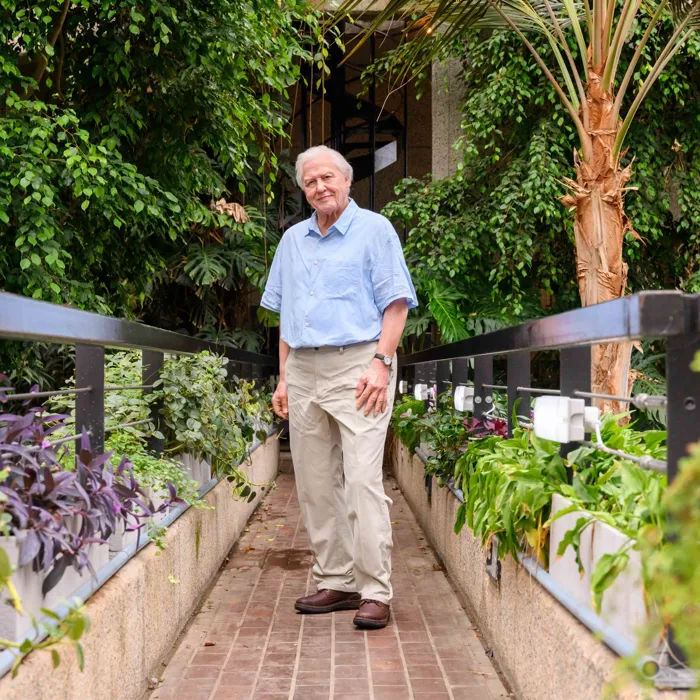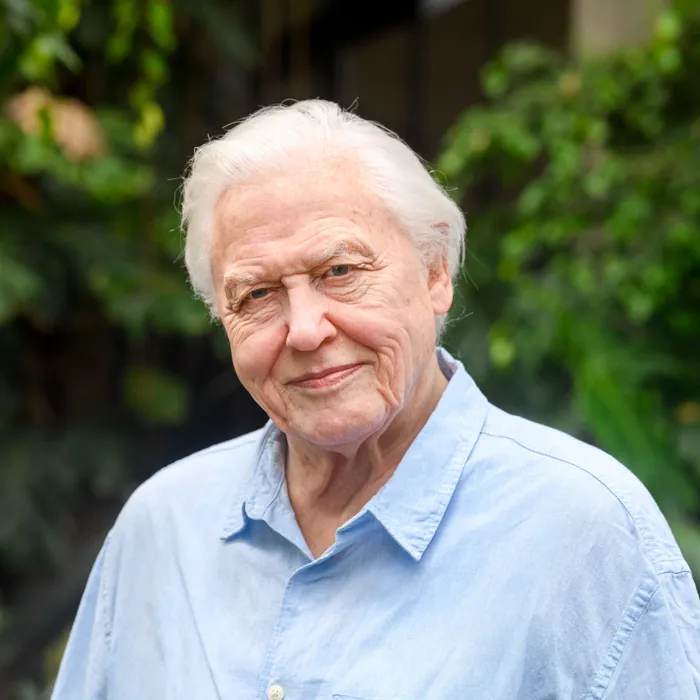 Sir David Attenborough's monumental climb to national treasure status...
1954 - Sir David becomes the producer and presenter of "Zoo Quest", the BBC's first wildlife documentary series.
1979 - "Life on Earth" is broadcast, marking the start of the ground-breaking "Life" series.
1990 - Knighted by Queen Elizabeth II for his services to wildlife broadcasting.
2006 - "Planet Earth" is broadcast, featuring stunning high-definition footage of Earth's natural wonders.
2020 - Releases the book "A Life on Our Planet," reflecting on his career and the urgent need for conservation.
2022 - The UN recognised Sir David's impact on the global environment by presenting him with the 'Champions of the Earth Lifetime Achievement Award'.
Numerous newly discovered species have been named in Sir David's honour as a tribute to his contributions to the field of biology and conservation.
Celebrity Connections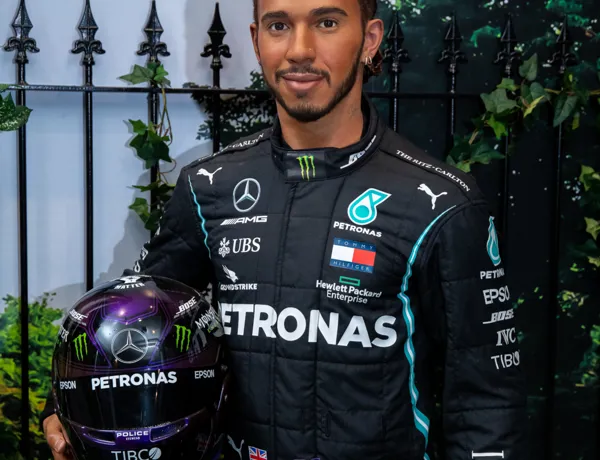 Lewis Hamilton
Lewis personally donated the outfit for his figure, it celebrates the first time he wore all-black overalls as part of the Mercedes team's diversity campaign in support of the Black Lives Matter movement.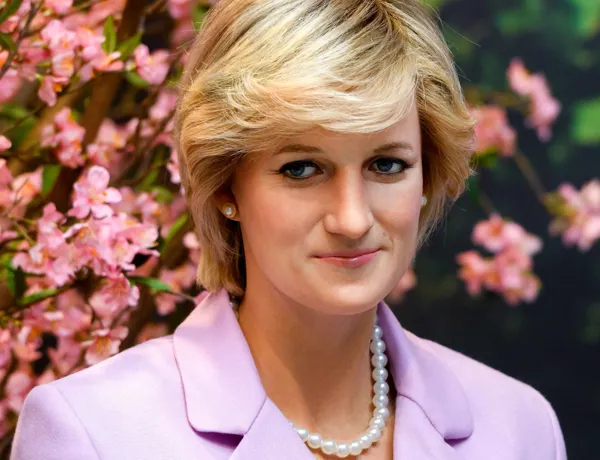 Princess Diana
A high-profile charity supporter, iconic presence on the world stage, and devout mother to William and Harry, The People's Princess takes spot in the Culture Capital.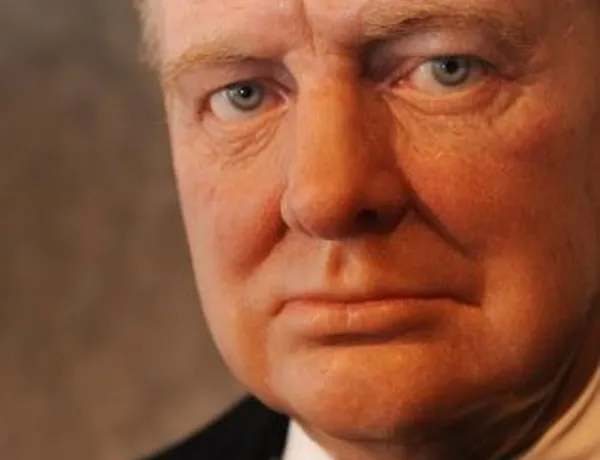 Winston Churchill
Stand alongside one of the most indomitable figures in British history, the wartime Prime Minister who steered Great Britain to victory, Winston Churchill.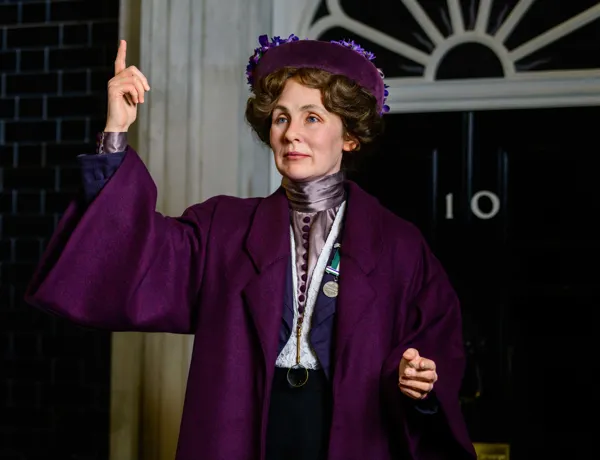 Culture Capital
Come face-to-face with the game-changers, trailblazers, and intellectuals who have helped shape modern British culture.
Explore our areas
Use the interactive map to find your way around Madame Tussauds London