President Trump Will Take Your Questions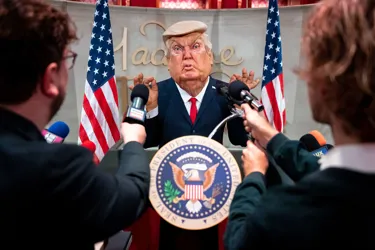 Today we announced the arrival of a very high-profile guest who will be a resident in the attraction for a two-week flying visit over October half-term. Confirming that this is not fake news,  'President Trump Will Take Your Questions', a new audio animatronic figure of Donald Trump that is ready and waiting to meet and greet the UK public, was unveiled.
Those who missed the bonafide President Trump's last visit to the UK have the unique opportunity to enjoy an alternative audience with the infamous US leader during a limited two-week residency. The self-proclaimed genius and leader of the free-world will be at Madame Tussauds London taking questions from an intrepid journalist, challenging the man at the top on the hot topics of the day.
Steve Davies, General Manager of Madame Tussauds London, said: "The most controversial man in global politics is arriving in spectacular fashion this October to Madame Tussauds London. Whilst he undoubtedly polarises opinions, we think that guests will be unanimous in their verdict of our truly original creation of President Donald Trump. As the man himself would say, it's going to be Huge."
Guests can distinguish between alternative facts and fake news themselves by joining the Presidential press conference from the 20th of October until the 4th of November at Madame Tussauds London.